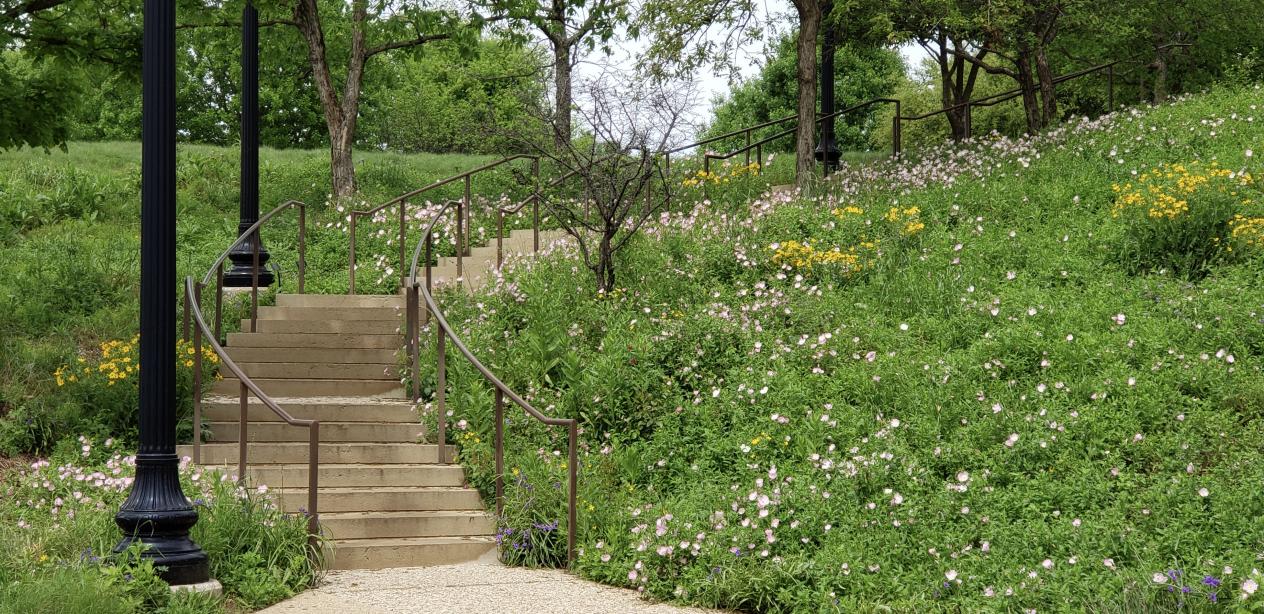 This 15-acre urban park on the grounds of the George W. Bush Presidential Center reflects the President and Mrs. Bush's longstanding commitment to environmental conservation and restoration.
The Native Texas Park, featuring a one-mile network of trails, walks visitors through native Texas environments including Blackland Prairie, Post Oak Savannah, and Cross Timbers Forest. The Blackland Prairie used to dominate the Dallas region; however today, only 1% of the prairie remains in the state of Texas. Rediscovery of the lost prairie was the inspiration for this community park.
The park is free and open to the public every day of the year, from sunrise to sunset. Comfortable shoes are recommended for walking the trails. Each season brings beautiful changes to the prairie landscape. Pets are welcome. 
Highlights
Native Blackland Prairie grasses
Seasonal wildflowers among other native plants
Clearings providing native habitats for butterflies, birds, and other species
Tree-shaded lawns 
Amphitheater
Spring - Bluebonnets
Fall - Monarch Butterflies
Fall & Spring Guided Tours
The Bush Center offers free guided tours of the Native Texas Park. Lead by a Texas Master Naturalist, these tours cover the one mile network of paths and take you through the three examples of native Texas ecoregions.
In the Fall, the tours allow visitors to catch the annual Monarch butterfly migration through North Texas. The Native Texas Park is home to the endangered milkweed plant. Monarch butterflies cannot survive without milkweed; their caterpillars only eat milkweed plants and Monarch butterflies need milkweed to lay their eggs. In the Spring, free guided tours are offered as well so visitors may enjoy the blooming bluebonnets, the beautiful state flower of Texas.
Self-Guided Tour Brochures
Landscape Education Map & Guide

 
Scavenger Hunts
Our Scavenger Hunts are a fun way for the entire family to discover the history of the prairie, identify native Texas plants and the wildlife they attract, and learn about water conservation and efficiency; all while enjoying the beauty of the great outdoors.