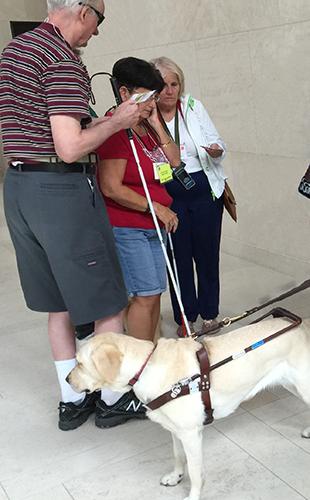 The Museum is fully accessible according to the Americans with Disabilities Act (ADA).
Wheelchairs are available free of charge on a first-come, first-served basis. Ask a Docent for assistance.
Wheelchairs cannot leave the Museum's secure area. They may not be taken to Cafe 43, the Museum Store, to the street for pick-up or drop-off, or to the Freedom Plaza fountain.
Motorized scooters are allowed.
Video presentations are closed-captioned for the hearing impaired.
Only animals defined by the ADA as Service Animals are allowed into the Museum.
Pets are not allowed inside the building; however, they are allowed in the Native Texas Park.
Accessible parking is located in the parking lot immediately across from the Museum entrance on SMU Boulevard.
For a sign language interpreter, email bush43visitors@nara.gov at least two weeks prior to your visit.
App
Check out the Bush Presidential Center's App for Apple iphone and ipad as well as Google Play. The app includes information about the Museum, such as exhibit galleries, video and audio guides, and ticket and tour information for planning a visit. The app is accessible in English and Spanish and it is ADA compliant.