2019 Exhibits
November 21, 2019 - January 5, 2020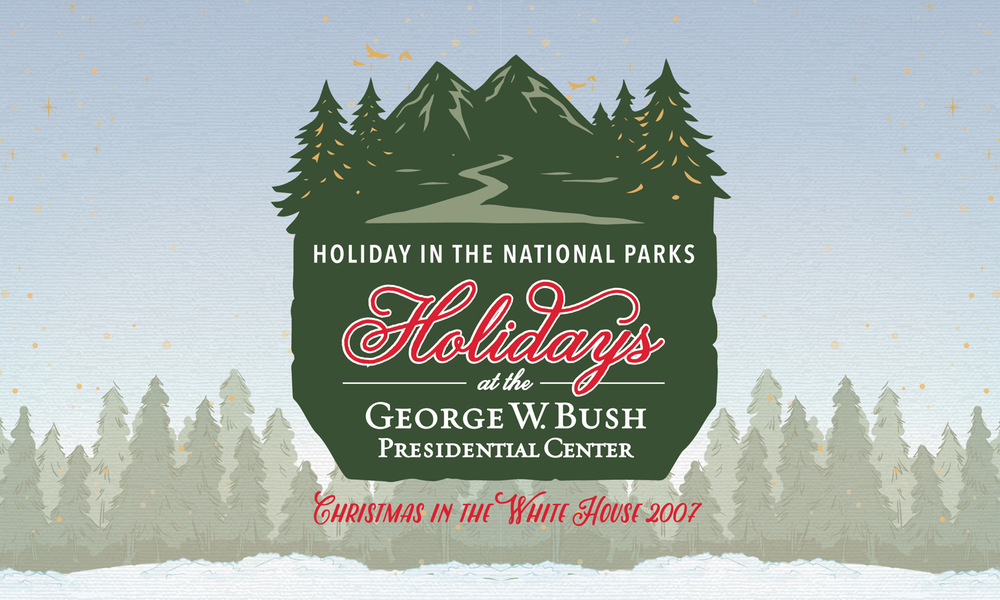 The Holiday in the National Parks featured traditional and elegant decorated that decorated the White House in 2007 and reflected our nation's breathtaking landscapes and historical sites.
March 6, 2019 - October 6, 2019

Presidential Retreats: Away from the White House gave visitors a look into presidential retreats such as Camp David, Prairie Chapel Ranch, LBJ Ranch and Walker's Point. 
2018 Exhibits
---
November 15, 2018 - January 6, 2019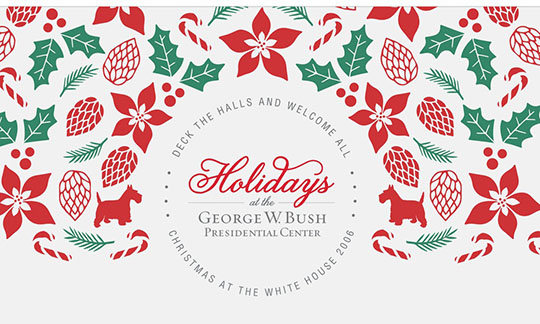 Deck the Halls and Welcome All: Christmas at the White House reflected the joys of the season and recalled historic holiday memories at the White House.
March 1, 2018 - October 1, 2018

First Ladies: Style of Influence examine the role of the first lady has evolved over time, and how first ladies have used their position to advance diplomacy and other social, cultural, and political initiatives. 
2017 Exhibits
---
November 16, 2017 - January 7, 2018

All Things Bright and Beautiful: Christmas at the White House 2005 highlighted the beauty found in nature. Inspired by a 19th-century English hymn that became the title of Yorkshire veterinarian James Herriot's beloved book, Mrs. Laura Bush said at the time that the line inspired the use of fresh flowers, fruits, and plants to show "how beautiful nature is and how many things we can use from our own gardens or woods" for Christmas decorations.
March 2, 2017 - October 17, 2017

Portraits of Courage featured 66 full-color portraits and a mural painted by President Bush of members of the U.S. military who served our nation with honor since 9/11 — and whom he has come to know personally. Each painting was accompanied by the inspiring story of the veteran depicted, written by the President. Visitors saw the faces of those who answered the nation's call and learned from their bravery on the battlefield, their journeys to recovery, and the continued leadership and contributions they are making as civilians.
2016 Exhibits
---
November 17, 2016 - January 8, 2017

A Season of Merriment and Melody: Christmas at the White House 2004 combined the magic of the season with heartwarming songs that have brought joy to Americans for generations. In preparation for the 2004 holiday tours, White House staff designed and crafted vignettes depicting classic songs.
March 1, 2016 - October 9, 2016

The Path to the Presidency Exhibit encouraged visitors to step into a candidates' shoes and enjoy a fun, interactive peek into past presidential campaigns, the changing face of the American electorate, and a glimpse at life on the campaign trail. Bringing historic campaigns to life with artifacts, documents, videos, and many other interesting components, the highlights included practicing your candidate handshake on the "Grip-o-Meter," watching iconic campaign TV ads in a 1960s "living room" theater, and delivering a portion of a historic acceptance speech using a real teleprompter and microphone.
2015 Exhibits
---
November 19, 2015 - January 3, 2016

A Season of Stories: Christmas at the White House 2003 combined the wonder of the season with the magic of classic children's stories that have captured America's hearts and minds for generations. Among the exhibit's artifacts were one-of-a-kind decorations depicting replicas of beloved storybook characters designed and handcrafted by White House Residence staff members. 
March 21, 2015 - October 4, 2015

Baseball: America's Presidents, American's Pastime exhibit explored the close relationship between America's Presidents and baseball. On a field constructed behind the White House, President Abraham Lincoln threw baseballs with his son. In 1910, President William Howard Taft became the first President to throw out the baseball season's first pitch. Six days after Japan surrendered on September 2, 1945, President Harry S. Truman threw out the ceremonial first pitch at a game. After 9/11, President George W. Bush threw out the first pitch at Yankee Stadium at Game 3 of the World Series on October 30, 2001.
2014 Exhibits
---
November 2014 - January 2015
Image
All Creatures Great and Small: Christmas at the White House 2002 celebrated the important role animals played in the Executive Mansion. The highlights included indigenous bird ornaments designed by artists from around the country, replicas of First Family pets that were displayed throughout the White House, and the first edition of Barney cam, a much loved tradition during the President and Mrs. Bush's years in Washington, D.C. For more about Christmas at the White House in 2002, such as traditions, photo essays, and decorations in the state rooms, visit the President George W. Bush archived White House website.
July 19, 2014 - October 5, 2014
Image

Oscar De La Renta: Five Decades of Style Exhibit was a major retrospective of American fashion designer Oscar de la Renta, exploring his significant career from its origins to his most recent, and what would sadly become his last, runway and red-carpet masterpieces.
April 5, 2014 - June 3, 2014

The Art of Leadership: A President's Personal Diplomacy Exhibit explored the relationships that President George W. Bush forged with world leaders to shape international policy and advance American interests abroad.  The exhibit featured thirty never-before-exhibited portraits painted by President Bush. Portraits were accompanied by artifacts, photographs, and personal reflections to help illustrate the stories of relationships formed on the world stage.
2013 Exhibits
---
November 25, 2013 - January 5, 2014

Home for the Holidays: Christmas at the White House 2002 incorporated original decorations, behind-the-scenes photos and videos, as well as artifacts, documents, and other materials. Because the 2001 holiday season followed a national tragedy, both home and family had a particularly special meaning to all Americans. To keep with the theme, replicas of some of the family homes of the nation's Presidents were designed, built, and decorated by White House staff members. Due to heightened security after 9/11, White House tours were suspended. When the Museum recreated this special exhibit in 2013, it was the public's first chance to directly experience this holiday.