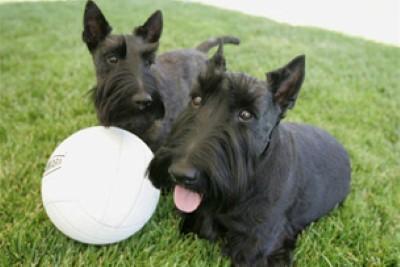 Barney and Miss Beazley were the much beloved Scottish Terriers of President George W. Bush and Mrs. Laura Bush. Barney joined the Bush family after the Presidential election in 2000, as a gift from President Bush to Mrs. Bush. Miss Beazley was a birthday gift from President Bush to Mrs. Bush in 2004 and arrived at the White House on January 6, 2005. Barney was born on September 30, 2000, and Miss Beazley was born October 28, 2004.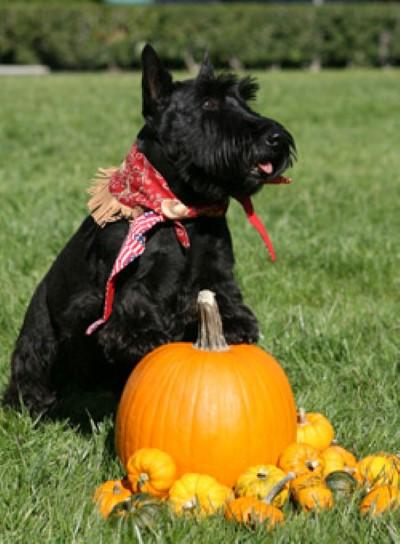 Barney and Miss Beazley quickly became devoted playmates and captured the hearts of millions in America and around the world. The demand for information about them was so great that the White House created a website, Barney.gov. It can still be visited today in its archived form. The "Barney Cam" videos are also available for viewing.
Barney loved to play with his volleyball. He also loved soccer balls, golf balls, tennis balls, and horseshoes. Barney shared his volleyball with Miss Beazley and she also loved to play with it.
Kids' activities featuring Barney and Miss Beazley can be found on our Kids page.
Miss Beazley was Barney's niece, so they were related but had different parents. Barney's mother was named Coors of Pontefract and his father's name was Kelly of Champion Motherwell Stormwarning. Miss Beazley's mother's name was Bethz of Black Watch Elizabeth and her father was named Clinton of Champion Motherwell Alberta Clipper. Kelly was Clinton's father, making Clinton the half-brother of Barney.
Sadly, Barney passed away in February 2013 and Miss Beazley in May 2014. More information can be found at Bush Family pets.