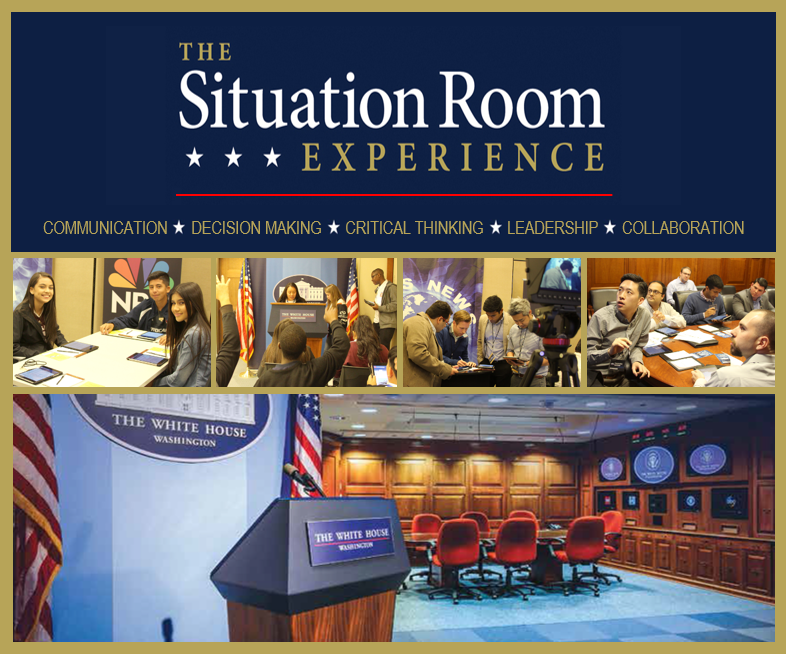 One unique educational resource is available only because President George W. Bush directed the White House Situation Room be renovated and updated with modern technology in 2006. The historic Situation Room was used by nine sitting Presidents including President Ronald Reagan. The existing Situation Room complex was removed and two of the key rooms - the Main Conference Room and the Secure Video Transmission Site - were preserved and reinstalled at the George W. Bush and the Ronald Reagan Presidential Libraries.
These profoundly significant rooms provide an exceptional educational opportunity for students who will form teams to assume the roles of the Executive Office of the President and the President's Cabinet in order to manage a constitutional crisis. Fellow classmates take on the parts of key news media members scrambling to cover the story as it unfolds before them. Participating students must work together in a high stakes environment to examine a multitude of critical sources and make important decisions about developing events.
This 21st century educational experience is aligned with national and state standards.
A Look at Government - Situation Room Experience Study Unit
How to Read a Document Workbook
Find out more information about the Situation Room Experience.
Reservations
Schedule a Situation Room Experience:
Scroll toward the bottom of the page to "Reserve Your Experience" and click on "Book Now."

Wait for the calendar to load.

Follow the prompts to click on the Month and Day.

Fill out the Information
Also, please download the Educational Resources and the Permission to Play and Photography Release forms. These are found on the "Reserve Your Experience" page.
For more information, email bush43education@nara.gov.